HEATSCOPE – this name stands for various infrared heating systems. What they all have in common is that they produce considerably less red light than comparable radiant heaters on the market but offer the same or much higher heat output at the same time.
This was made possible thanks to a complete rethink in planning and development. While other manufacturers use light tubes for their radiant heaters where the heat is a waste product of the light, HEATSCOPE relies totally on carbon heating elements. When charged with electricity they start to glow and produce heat as a result: the light here is just a tiny by-product of the heat, not the other way round.
This is the crucial advantage of heaters from HEATSCOPE compared to all other customary models.
This in itself would be an achievement and yet the developers at HEATSCOPE were not satisfied with that.
The already very subtle red light (just 30% of other radiant heaters) was to be halved again. They succeeded in accomplishing this with the help of SCHOTT NEXTREMA glass front screens that halve the emitted light again despite letting the maximum amount of infrared radiation and heat through.
Resulting in design and ambient heaters that emit virtually no light at all and can therefore work subtly in the background.
This is appreciated wherever an exceptional atmosphere has been created by interior furnishings or design that has to be heated pleasantly but not spoilt. This is precisely where HEATSCOPE comes into play! Designed, developed and made in Germany.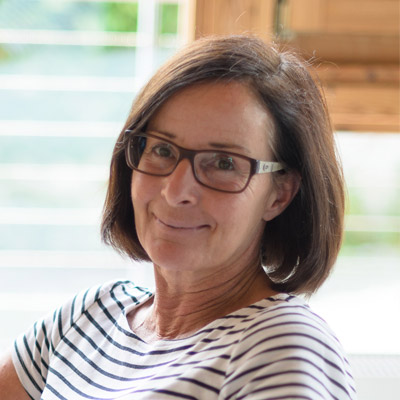 Email to
Susanne Bartsch »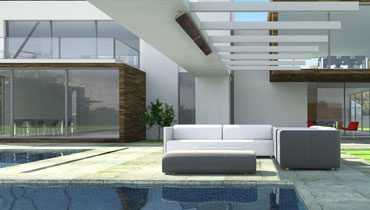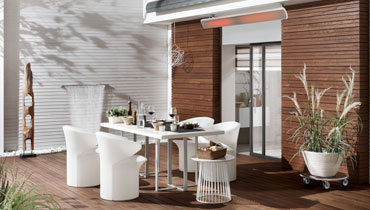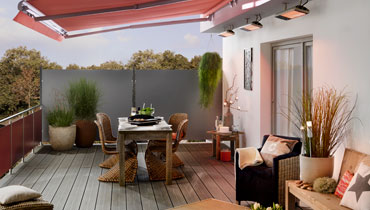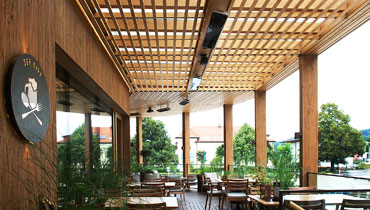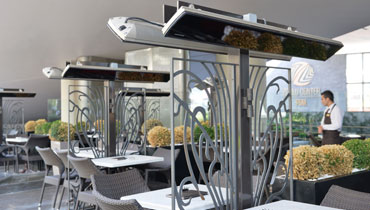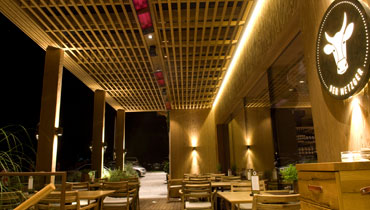 The advantages of the HEATSCOPE heater from MOONICH

Pleasant heat in less than 30 seconds at the press of a button

The whole body is warmed up by the ultra-fast infrared mid-wave technology

Just 15% light with the PURE model thanks to the SCHOTT NEXTREMA glass front panel

Can be easily and conveniently operated by remote control: ON/OFF, 50%, 100%

Only materials of the highest, long-lasting quality are used, such as carbon heating elements etc.

Planned, designed, developed and made in Germany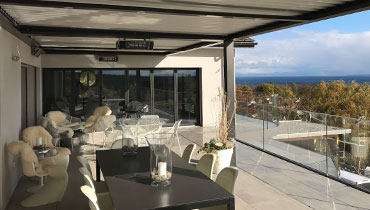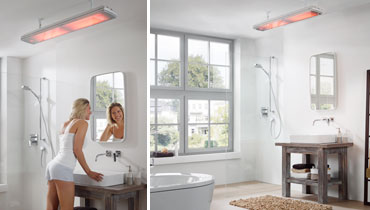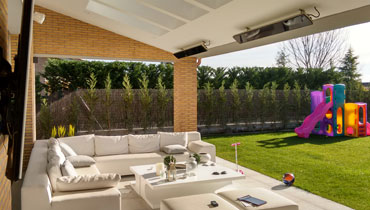 HEATSCOPE ambient heaters can be used just as much in the restaurant trade as at home on the patio. With its subtle, reduced light and high heat output, the HEADCOPE can be installed at heights of up to 2.5 m (PURE model with SCHOTT NEXTREMA glass panel) or up to 3.0 m (SPOT with front safety screen). They can also be integrated into an existing home control system without any problems (depending on the system and its specifications).
Special features of the HEATSCOPE design heating solutions:
Less light, more heat thanks to innovative carbon technology;
Reduced red light thanks to SCHOTT NEXTREMA glass front panel;
Complete set of installation accessories included;
Can be integrated into home control system with IR remote control;
100% Made in Germany.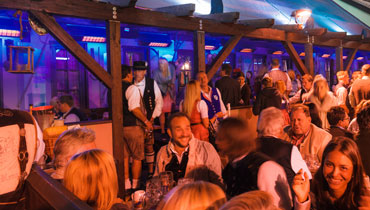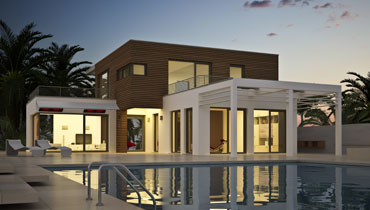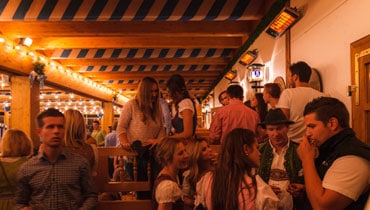 More brands & products from MOONICH