Unique equipment for
unique restaurants, hotels & events
What equipment do you need for your event, restaurant, hotel or patio?
There is hardly any difference in the requirements that events and the classic food service industry have for suppliers of equipment and interior designers.
Extremely flexible equipment is just as important as for catering, the hotel and restaurant industry as for events. It's a key factor in part of the success.
This equipment has to have a certain something on the one hand, this might be a unique design, special function that nobody else has, or purely and simply a clever add-on.
On the other hand this equipment has to offer extra value added. And of course be easy to handle for everyone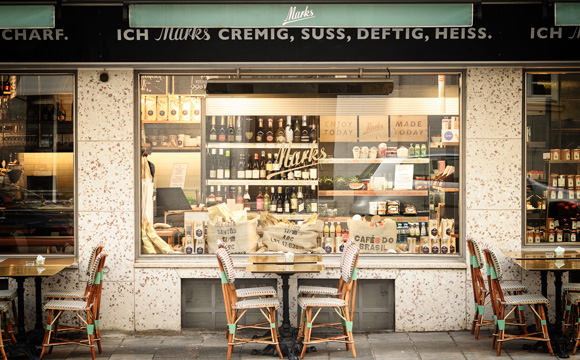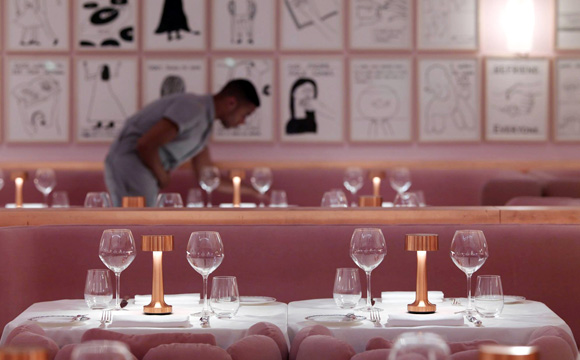 It is precisely these features that are the common denominator with all the trademarks at MOONICH.
Whether it's the cordless design lamps from NEOZ that create a pleasant light on tables or the light, weatherproof MOONICH Lounge armchairs and sofas, which you can quickly move from A to B and rearrange time and time again.
What is important with every brand in the MOONICH portfolio is and remains that certain something special that does not exist anywhere else – and unique design of course!
Furthermore, all suppliers of equipment for hotels, restaurants and catering businesses, hoteliers, restaurateurs and event agencies can find exemplary solutions to create a unique ambience and experience for discerning guests, which have already been implemented and used in one or more locations.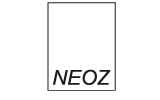 Cordless rechargeable battery table lamps
for high-end hotel and restaurant businesses

NEOZ cordless lamps create a pleasant light on any table or seating arrangement. With LED or halogen, rechargeable battery operated, no cables.
Why do many restaurateurs, hoteliers and suppliers of equipment for events all over the world choose NEOZ cordless lights?
Quite simply: The table lamps are not just flexible and can be used anywhere but their light is extremely natural with colour rendering index values between 93 and 100 CRI and colour temperature values of 1800K or 2700K.
This might not mean anything to one or two people. But the result is that food and drink on the table appears in a natural light and does not look distorted. This is a crucial bonus particularly in the high-end restaurant business!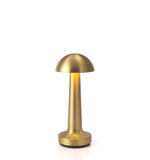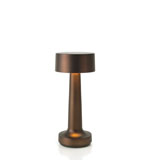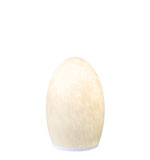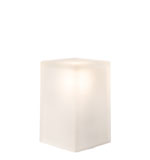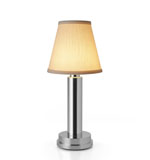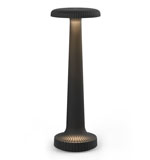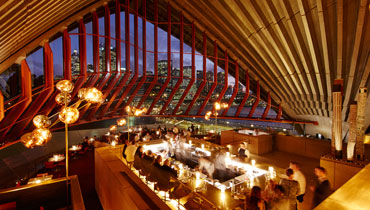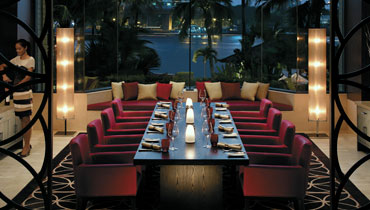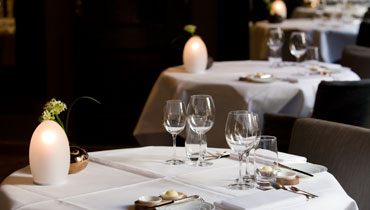 Cordless and flexible thanks to innovative rechargeable technology

Sustainable and environmentally friendly, more than 1,000 charging cycles

LED bulbs, halogen bulbs optional: natural light,
1800K or 2700K,
+93 to +100 CRI

Two rechargeable batteries, various charging options: UNO + PRO – for 13 up to 260 hours of light

Special solutions for the hotel, restaurant and catering industry: up to 48 charging docks with just 1 main connection

Premium materials only, each part can be individually replaced, worldwide series number registration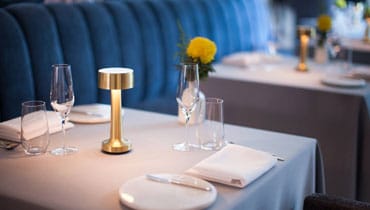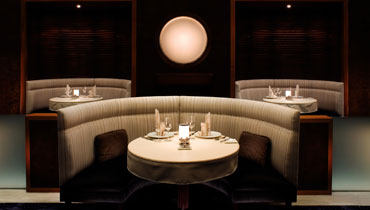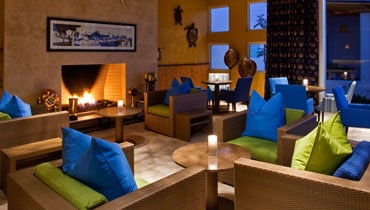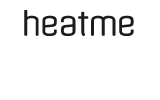 Rechargeable battery heated cushions with sensor for wherever it's a bit cooler –
like in beer gardens, marquees, ski events & stadiums
Sit outside in the spring and autumn too or when the evenings are getting a bit cooler – this is not only possible but really easy in the hotel and restaurant industry and at home too with the heated cushions from heatme. The innovation is a sensorik that allows the cushions to be permanent outdoor accessories for the cooler season. Once the battery is empty, it can be replaced with the replacement battery in no time at all and the cushion is 100% ready for use again and offers warmth from below for up to 4 hours non-stop!

Cordless and flexible thanks to innovative rechargeable technology

Sustainable and environmentally friendly, more than 1,000 charging cycles

innovative battery sensor technology: switches on automatically when setting – and vice versa

Extremely sustainable: efficient, energy-saving Li-ion rechargeable batteries

Premium materials only: High-end Li-ion rechargeable batteries, water-repellent outdoor covers etc.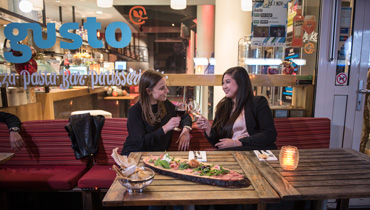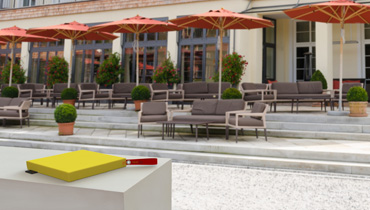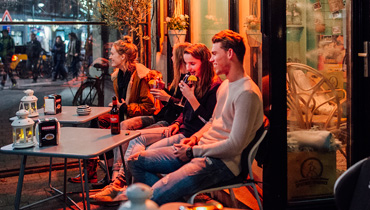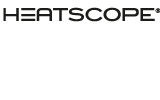 Subtle patio heating for fixed installation – perfect for outdoor food service businesses
Simply turn it on and enjoy the heat. No bright red light, pleasant warmth all over the whole body. How HEATSCOPE ambient heaters work. The heaters produce heat in seconds on the basis of ultra-fast infrared mid-wave technology. And the light produced by the carbon elements is reduced to a minimum with the SCHOTT NEXTREMA glass front panel.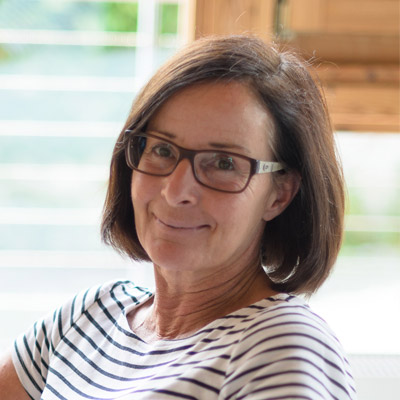 Your contact:
Susanne Bartsch
Tel.: +49 8104 64709-23

Email to
Susanne Bartsch »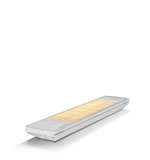 SPOT, power heater, 2800 W, white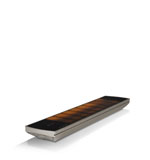 SPOT, power heater, 2800W, black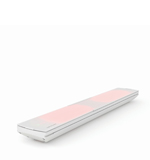 VISION, ambient heater, 2200 W, white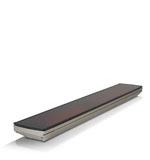 VISION, ambient heater, 2200 W, black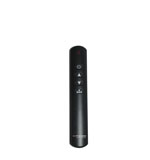 Remote control, for power & ambient heaters, 2 settings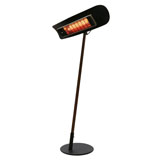 FREE, free-standing heater stand solution for all outdoor areas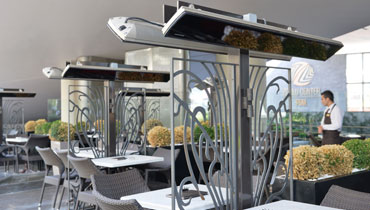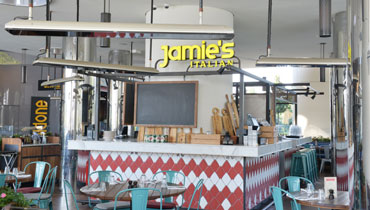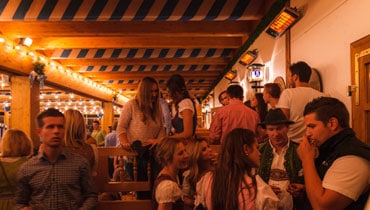 Pleasant heat in less than 30 seconds at the press of a button

The whole body is warmed up by the ultra-fast infrared mid-wave technology

Just 15% light with the VISION model thanks to the SCHOTT NEXTREMA glass front panel

Can be easily and conveniently operated by remote control: ON/OFF, 50%, 100%

Only materials of the highest, long-lasting quality are used, such as carbon heating elements etc.

Planned, designed, developed and made in Germany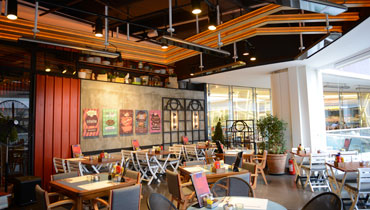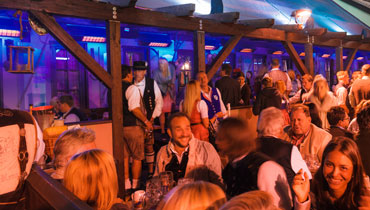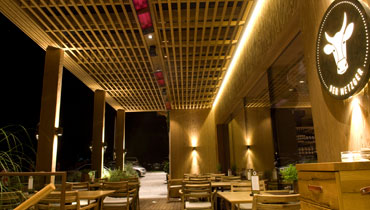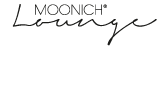 Light as a feather Lounge armchairs & sofas:
weatherproof, ultra-comfortable & extremely flexible

Comfortable armchairs and sofas that weigh (virtually) nothing – that's what sets the furniture collection from MOONICH Lounge apart. The light as a feather, extremely comfortable lounge armchairs and sofas are extremely wear and light resistant. The outdoor collection with SUNBRELLA fabrics is also weatherproof and can be used outdoors all year.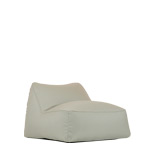 VIVARA, weatherproof armchair, SUNBRELLA ROBBEN fabric, silver-grey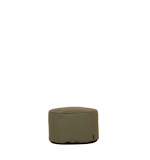 LIPARI round, round stool, SUNBRELLA ROBBEN fabric, taupe grey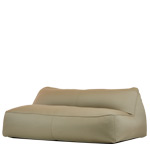 PANAREA, sofa, SUNBRELLA SLING fabric, taupe, weatherproof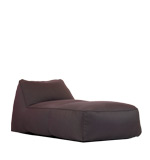 PIANOSA, weatherproof couch, SUNBRELLA ROBBEN fabric, purple-grey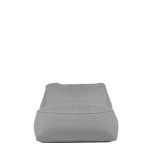 VIVARA, outdoor armchair, SUNBRELLA SLING fabric, silver, UV-resistant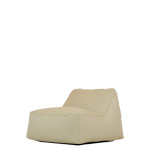 VIVARA, lounge chair, SUNBRELLA SLING fabric, sand, lightfast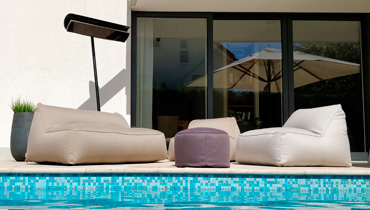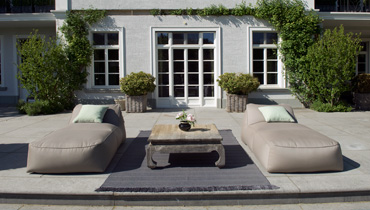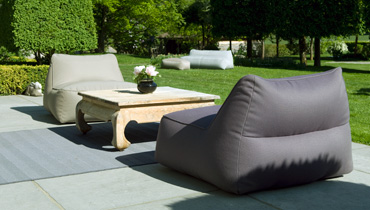 Fast-drying, lightfast and UV resistant fabrics and covers

Windproof, weatherproof, and rainproof outdoor models

Outdoor models can be used outside all year round

Light as a feather and soft filling (max. weight just 15 kg for the largest sofa)

Italian design, high-quality fabrics & materials (e.g. SUNBRELLA covers)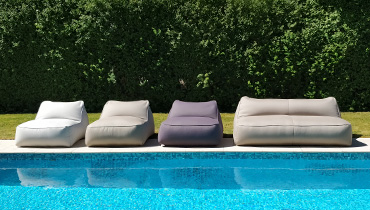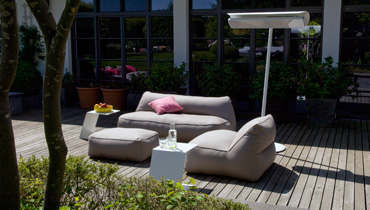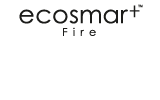 Fire without any smoke, soot and ash –
perfect illumination for the food service industry & events
Fire as fire itself – without any smoke, soot and ash. This has been possible for several years with modern, sustainable bioethanol fuel and the burners from EcoSmart Fire. The alcohol burns with (virtually) no residue and produces a beautiful, pure flame. Resulting in just CO2 and a bit of steam. And the best thing is: once the flame is extinguished, it is really out and does not continue glowing. Now also available as modular Firebox system FLEX with more than 173 possible combinations (length, width, open sides, extensions, burners, accessories etc.). We will be happy to advise you on the best solution for your installation environment!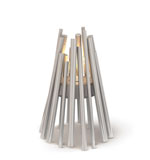 STIX, outdoor fireplace, stainless steel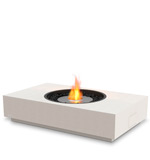 Fire table MARTINI, for inside and outside
POD 40, Outdoor fireplace, Concrete composite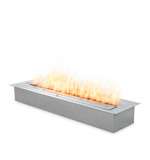 Burner XL900, for individual installation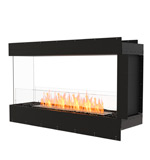 FLEX 50pn, modular firebox in C-shape (open on three sides)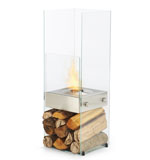 GHOST, ESG safety glass fireplace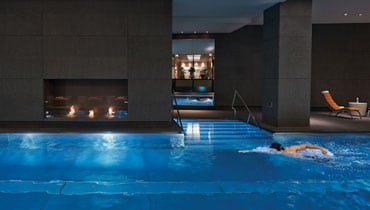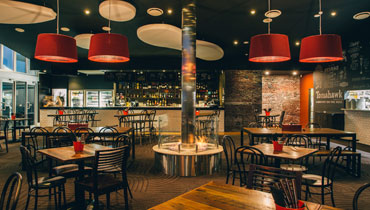 Beautiful, natural looking flame with bioethanol / alcohol

Enjoy the fire without any smoke, soot, ash or glowing embers

Sustainable fuel extracted from crop residues

The highest safety standards thanks to sophisticated technology

Premium quality materials like stainless steel, concrete, steel wool etc.

Comprehensive safety accessories included with every burner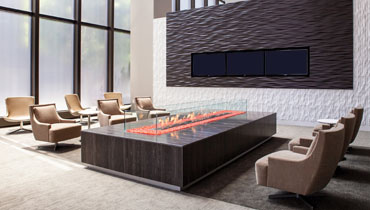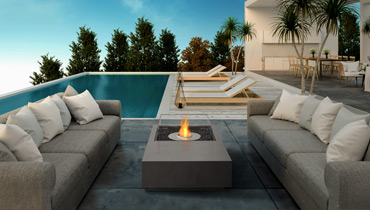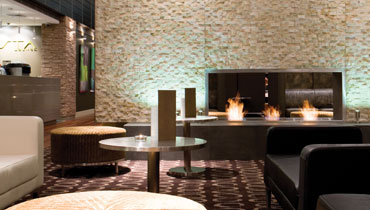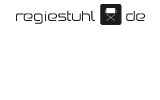 Director chairs & deck chairs for the food service industry & private use:
22 fabric colours, 5 wood shades, printed logo – from 1 item

Many customers have got to know and appreciate MOONICH through the printable deck chairs and director chairs. These are of course still available through their own website www.regiestuhl.de. With or without print, high or normal, from one item, all over Germany, Europe and the world.
By the way, many stars are also familiar with our service: many famous faces have already sat on our chairs from Quentin Tarantino to Tom Hanks and the Germany's next Topmodel team…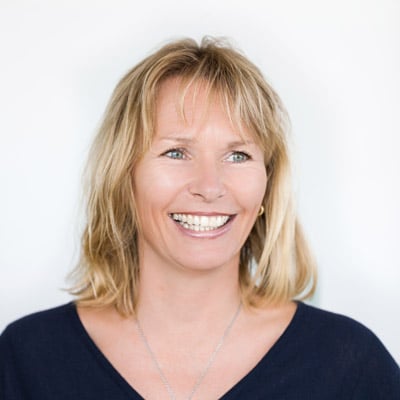 Your contact:
Inka Schoeck
Tel.: +49 8104 64709-13

Email to
Inka Schoeck »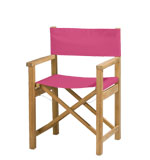 CABIN, teak folding outdoor chair, Weishäupl, natural and fuchsia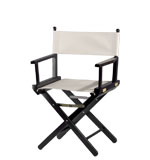 ALFRED, beechwood folding indoor chair, black and natural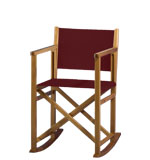 HELMUT, folding indoor rocking chair, brandy and Bordeaux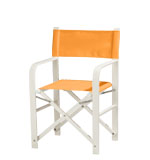 SOFIA, aluminium folding outdoor chair, white and mandarin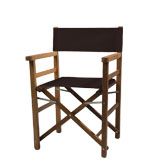 OSCAR, Iroko folding outdoor chair, Iroko and dark blue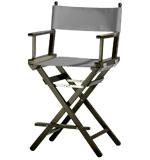 SYDNEY, folding indoor bar stool, black and grey

Easy installation / assembly accessories included

Made in Europe, high-quality materials only: beechwood, acrylic fabrics (hand-sewn)

Weatherproof outdoor models for unlimited use outside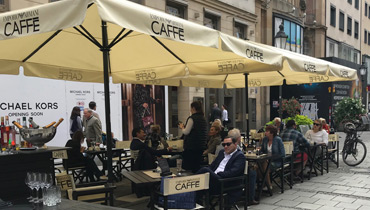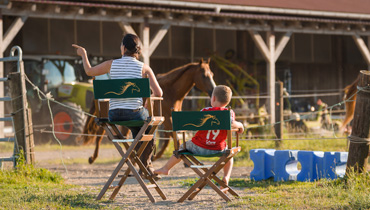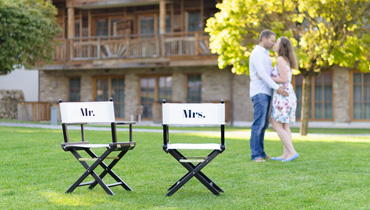 All MOONICH brands & products for hotels, restaurants, bars and events